Bushnell Pro X3 Rangefinder
---
Bushnell Pro X3 Rangefinder
Graeme Bell
Despite being the best in the game, Bushnell keeps striving to improve its rangefinders. The elements-compensated yardages of the Pro X3 proves that.
Get consistent, accurate yardages from any distance, lock onto the flag perfectly every time and even enjoy slope & elements-compensated readings. You'll never have to worry about being dialled-in again.
Key features and benefits:
Slope-Switch Technology lets you switch easily between Slope & tournament-legal modes
Slope mode compensates for the elements
PinSeeker with Visual JOLT locks onto the flag and gives you feedback
Consistent yardages to within a yard of the flag from 600+ yards away
IPX7 waterproof - up to one metre for up to 30 seconds
Integrated BITE technology makes it easy to attach to a cart, trolley or even your clubs
7x magnification
FREE Bushnell Golf mobile app included
This Bushnell rangefinder truly is top-of-the-range, and if you want to try it out for yourself simply click the enquiry button now.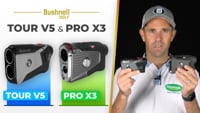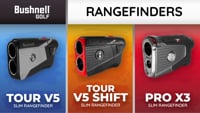 Contact
---